1 year ago
'Sweet Charity' transports Rivertown to 1960s for fun, laughs, good time
Kenner's historic Rivertown district has hit the skids. Vices abound as a number of shifty characters have driven out businesses that once gave the area its family atmosphere.

Even the management of the Rivertown Theaters for the Performing Arts appears to have been supplanted. The landmark theater, once a central attraction of the district, is now the seedy Fandango Ballroom --home to B-drinkers, men involved in shady dealings, and ladies of negotiable virtue. Even the cops are on the take, greeting patrons as they enter this demimonde.

What can the citizenry do? Just surrender and call the Rivertown Theaters box office to book tickets to its new production of "Sweet Charity."
1 year ago
Why CNN Wants You to Believe That Hillary Clinton Won the Democratic Debate | Brian Hanley
It's difficult to remain objective as soon as your father or mother business provides a lot skin in the game. time Warner, associated with course, provides donated over $400,000 in order to Hillary Clinton's campaigns.

Thanks to 1 Reddit user, we now have evidence in order to claim that CNN deleted its really own poll showing Bernie Sanders in front of Hillary Clinton.

That's where things can get tricky for that media.

Why would CNN become therefore quick in order to declare Hillary Clinton your winner of Tuesday's Democratic debate, when the majority associated with on the actual internet polls crowned Bernie Sanders?

Well, it could get some thing to complete with the proven fact that time Warner Cable owns CNN.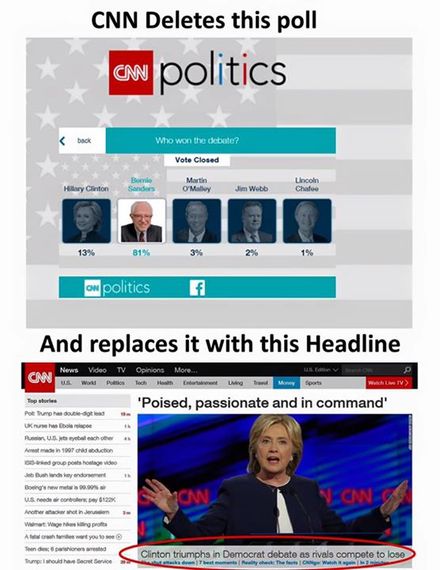 What would you think?


1 year ago
What Makes a Good Website
The question keeps looming on webmaster forums all over the world - What makes a great website? The answer, according to common 'web' sense (which is, unfortunately, not so common on the Internet) is presented here. It's based on tips from the experience of webmasters, who have created highly popular web pages and seen the Internet grow over the years, right from its birth. Once the answer to this question used to be very simple - 'Good and Original Content'. Even today, in Web 2.0 times, that remains the gist of the answer, but many more things need to be done and incorporated into your web pages, to make it popular. There are no absolutes on the web. It is an ever-changing and dynamic medi